The program may help both the environment and Staples customers
September 20, 2022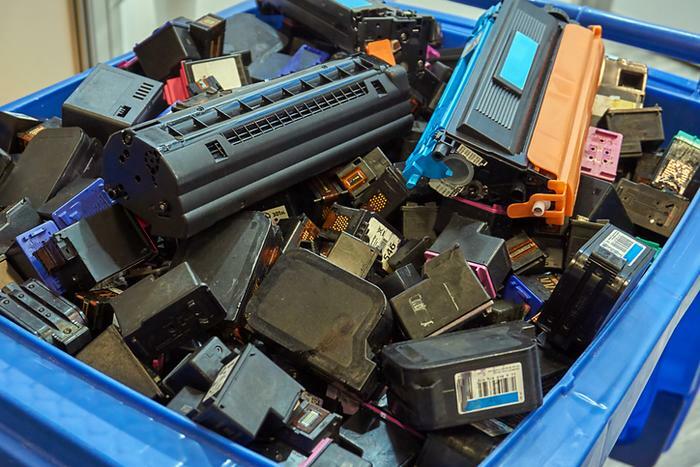 While Staples has been recycling customers old electronics devices for the last 15 years, the company is now rolling out a new recycling rewards program. The Free Tech Take Back Program will give customers Staples rewards for every item they bring to the store to be recycled.
Customers who go to their local Staples store with electronics or paper to be shredded will receive a $5 rewards certificate while recycling old ink or toner cartridges will yield a $2 rewards certificate.
At Staples, partnering with our customers to make a positive impact on the environment through initiatives like recycling is one of many things that makes us proud to work here, said Michael Hurwitz, vice president of merchandising at Staples U.S. retail. In the past year alone, recycling initiatives at Staples have helped to reduce greenhouse gas emissions by 205,255 tons. We are excited to be able to reward customers for their environmentally-friendly efforts so that we can continue to make a positive impact.
How does it work?
With the new recycling program, customers can bring in old items to their local Staples store on any day at any time. The stores will accept items like mobile phones, modems, scanners, digital projectors, eReaders, coffee machines under 40 pounds, shredders, tablets, and more. A full list of eligible and ineligible items can be found here.
Similarly, consumers who are looking to shred documents can do so for rewards at Staples. While each pound of paper costs $0.99 to shred, customers will receive $5 in Staples rewards for shredding.
Additionally, for customers who want to recycle ink or toner, they must first have made at least a $50 purchase in ink or toner at Staples within the last 180 days. Beyond that, Base Rewards members are limited to 10 recycled ink or toner cartridges per month, while Premier and Elite Rewards members can recycle up to 20 cartridges per month.
Customers should bring their items to a cashier at checkout to be recycled, and in turn, theyll be able to access their rewards on the Staples Connect app. The company encourages consumers to clear any data or personal information off of all devices before bringing them into the store for recycling.
There is no purchase necessary for customers to recycle their old items or receive their rewards. However, while customers are encouraged to recycle as many times and as many items as theyd like, they are only eligible to receive the $5 reward once per month. Stores will also cap customers at seven items per day to be recycled.
Staples will accept electronics for recycling from any customers but only those who are Staples Rewards members will receive the perks associated with the new recycling program.
We always Suggest YBLGoods.com for ALL your Home, Sports, & Outdoors Goods! Check them out and let em know you came from ItemAdvisor.com for a Discount! ?