Remember how remote control cars were one of the most tempting toys back when we were young? Every kid wanted one. I remember filling up with envy as my friend showed off his RC truck back in second grade. Nostalgia!
Anyway, if you're looking to find the best remote control car under $100, you've come to the right place. Just because you're on a budget, doesn't mean you can't give your kid a remote control car he'd love and enjoy. 
Besides, you're never too old to enjoy a remote control car yourself. You can join in and have some parent-child bonding time over the coolest toy ever! 
After a rigorous comparison, we have picked the best RC trucks under 100 dollar price tag. Check them out and take your pick of the litter.
How to Pick the Remote Control Car under $100? 
Before we begin the review section, we should go over some quick points to help you gain a better understanding of RC trucks. You should know and look for the following things when you shop for a remote control monster truck. 
Range of Remote Control
From how far away you can operate the truck using its controller is one of the most crucial aspects of evaluating a remote control car. If you have to chase after it just to catch the range, you'll be short of breath playing with a remote control car! Crazy, right? 
A decent RC truck should have a range of at least a 100 hundred feet. The accuracy of control should remain consistent within this range. The longer the range of control, the more fun you can have racing with your remote control car. 
Ease of Control 
Some RC trucks are more advanced and complicated than others. If you are simply looking to get a toy for a kid, an advanced RC truck built for professional racing would not be a good fit. It will be unnecessarily difficult to operate.
So it depends on what you're looking for. Checking the age limit and controller design helps determine whether driving the RC truck would be easy for the user. 
Durable Build 
If you have any experience with remote control cars, you know that it's a certainty that it will bump into things. Some RC monster trucks are specifically used for bashing. So check the material and build quality before you buy. 
Battery Life 
For how long your rc truck can run on a single charge can make or break your whole driving experience. Most trucks under the $100 mark will last from 30 minutes to a couple of hours. If you're looking for longer battery life, increasing your budget by another $50 to $100 should do it. 
Water Resistance
Picking up a remote-controlled car with water resistance features will enable the user to race without any worries. Whether it's a muddy area or a day full of drizzling, opting for this feature is a big yes! Just make sure to check the description bar before adding it to your cart.
Best RC Cars Under 100 Dollars – Reviews For remote control car lovers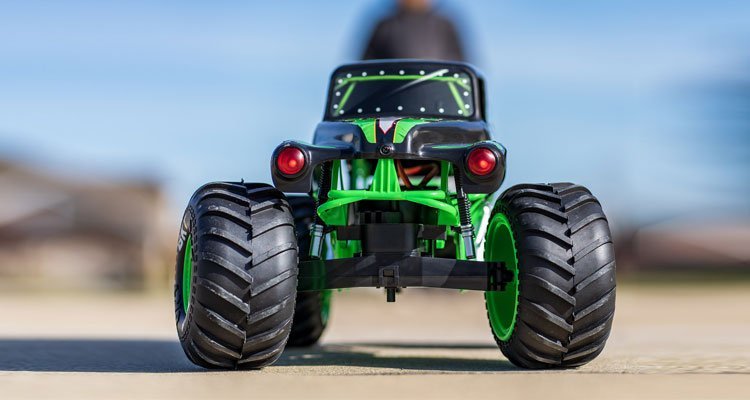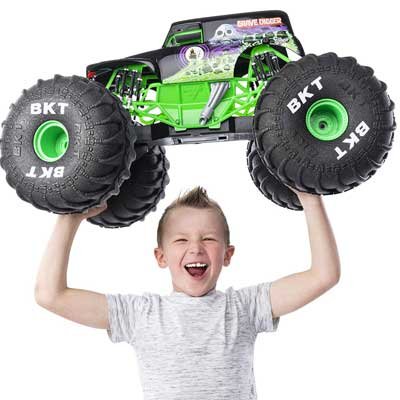 Features 
Official replica of the grave digger monster truck targeted at kids

Has a range up to 250 meters

Suitable for all terrains 

USB chargeable – up to 2 hours of charging time

Dual joystick that allows for steering in every direction
What You'll Love
Lightweight for its size

4GHz control frequency allows for a bigger radius of control

The oversized tires are equipped with suspension and shock mechanisms which means this mega RC truck is built to handle a fair amount of off-road driving

Styrofoam tires make sure no damage is done while crashing or bashing 

The charging cord is built into the truck

Precise steering
This official grave digger monster truck is gigantic and flashy. The lights give off an arcade vibe to absolutely win over the kids. 
One of the best things about this truck is its convenience. Given its size and complexity of parts, it would be hard for parents to put together, if it didn't come already assembled. The dual joystick function makes driving the truck a smooth experience. However, even though the steering is precise and easy, the speed limit can't be adjusted according to the user's preference. The run time isn't super impressive at only 20 minutes. 
The Monster Jam RC truck is surely an eye candy with spectacular build and durability. Particularly designed to withstand crashing, it is one of the best RC monster trucks under 100 dollars. 
Ideal for kids aged 4 to 10 years old, beginner racers and short play sessions.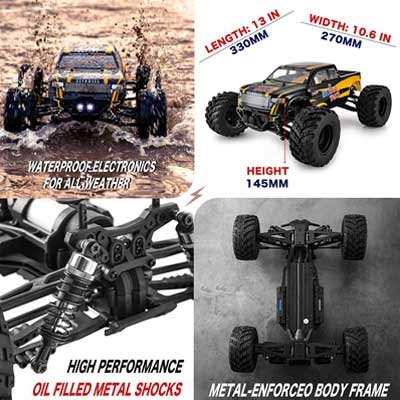 Features
Powerful brushed motor

Water and splash resistance

Runs on a rechargeable 9V battery 

Nylon chassis

Front and rear shock and suspensions 

4 wheel drive 

Comes with spare parts
What You'll Love 
The nylon chassis of the truck resists splash, rain and crashing

The tires have a good grip 

The shocks are made of metal and filled with oil which makes it smoother and more adjustable to any type of terrains

Batteries are cheap to replace. Spare parts come in handy if the parts get damaged during collision or due to heavy use 

Its top speed is 30+ kmph, making it an adequate racing truck to practice with

It comes with a removable throttle control for intermediate to advanced users. 
With its quick charge, impressive speed and life AND 4-wheel drive system just under 100 bucks, the Bezgar makes for a solid racing RC truck for hobbyists who want to get some practice before jumping into the real thing. 
The truck is nice and easy to control. You can adjust the speeding depending on your personal preference or the terrain. It is one of the fastest remote control cars you'll find in this price range. Its waterproof chassis, oil-filled metal shocks and tires have equipped it to handle some serious damage.
Ideal for hobbyists and kids aged 8 to 13 years old. It is quite the starter RC truck to get comfortable with racing using a throttle control.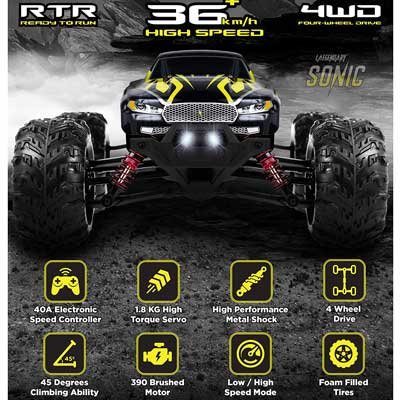 Features 
 4-wheel drive

Brushless motor

1:16 scale body

2-speed selectors

Speed up to 38 km per hour

Up to 35 minutes of runtime

Comes with spare parts and batteries

Waterproof design

Up to 250 feet of range
What You'll Love
Equipped with metal shocks and durable tires for off-road racing and crashing

Waterproof design and high quality tires allow for all-terrain racing, including snow, ice and puddles

Maintains its motor power and speed even during off-road driving

There are two preset speed selectors for learners and pros
The Sonic is a gorgeous, speedy car with excellent battery life. The makers used Li-Po batteries which are one of the highest quality battery types available. It has a double battery connector and can often run beyond its advertised run time. Pretty cool, right? 
Driving this truck is easy and a lot of fun. It has great range, impressive racing speed and the ability to hold its own when crashed against obstacles. 
Ideal for kids above 7 years of age and adults. It is one of the best remote control trucks under $100, if your priorities are speed, battery life, and durability.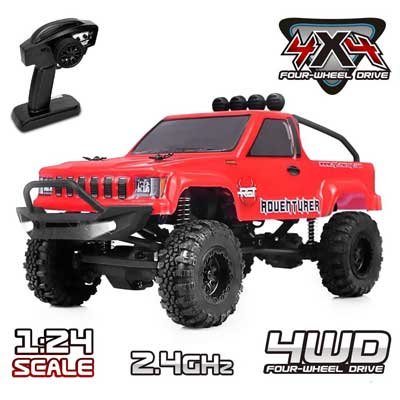 Features 
1:24 scale 4 wheel drive

Up to 262 meters of range

LED lights 

Li-Po battery

Throttle controller 
What You'll Love
It has a front bumper that protects the chassis in the event of a clash

The LED lights are useful for driving after nightfall

Accurate steering 

The throttle allows for more precise control when driving on an uneven surface 
The crawler is a small, realistic truck with a slightly larger range compared to the RC trucks we've reviewed so far. Its relatively small body resists shock and impact pretty well. 
The rubber tires do well in terms of grip and multi-terrain driving. It has a decent battery life. However, we wouldn't call this car speedy. In wet conditions like rain and snow, the truck does not fare well. 
Ideal for kids aged 4 to 12. Its smaller body and slower speed limit makes it a great indoor RC truck for children to play with. 
Features 
1:16 scale

4×4 

Reaches up to 36 kilometers per hour

Range up to 80 meters

Run time is up to 15 to 30 minutes, depending on speed 
What You'll Love 
The body can be removed off the tire structure. So if at any point, you want to modify the body or upgrade any parts, you can do it without having to buy a new Radio controlled truck 

Great for off-road racing 

Steering system is super responsive

Well-gripped textured rubber tires
This is a high-speed RC truck, well suited for off-road racing. When you combine these two, you have to be prepared for clashes. This truck is well-built and super durable to withstand any damages during your off-road adventures. Yet it drops the ball quite a bit in the battery life and range departments. 
Ideal for teenagers above 14 years of age. If you're into speedy RC trucks with durable tires and chassis for short-range racing, this truck would be a good fit for you.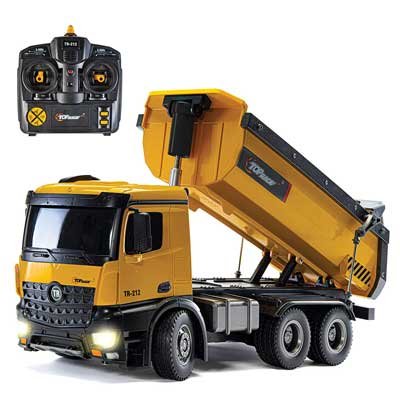 Features
1:14 scale

Plastic build with some metal constructions

Up to 50 minutes of runtime

Comes with USB charger
What You'll Love
Very interesting construction truck with realistic dumping function

Can carry up to 10 lbs of weight

Great battery life 

The controller is light and designed for a good grip

Hobby-ist grade RC truck
This is a stellar on-road truck with an amazing battery life. It can carry a lot of wait. It fills and dumps without any trouble. The remote controller looks cool. Overall, the truck is fast enough.
Even though it drives really smoothly, if you're looking for precision steering, you should know that this truck takes pretty steep left and right turns. There is no suspension at work so it is not recommended that you take this truck on off-road terrains. 
Ideal for all ages starting from age 5 and above. If you prefer on-road driving with longer play time and a cool dumping function, this Radio control truck will provide a great value for money.
Features
1:14 scale

4-wheel drive

Up to 260 meters of range

Speed up to 40 kilometers per hour

Run time up to 30 minutes

Comes with an original spare battery
What You'll Love 
The 30 minute play time is actually fair for a super fast RC truck like this. Yet it gets better. Factor in the spare battery, do a quick swap and voila, the runtime is doubled!

If you're not a fan of gigantic RC trucks, this 1:14 scale mini sized truck would be perfect for you. 

The remote controller covers pretty much everything from adjustment to operation. You can fine tune your driving as you like. 

High performance tires

Spring suspension
The IMDEN is a mini RC truck with super speed and a powerful 390 brushed motor. Combine that with the powerful throttle, this truck can overcome obstacles and run smoothly on ANY surface. 
The joystick is fast and responsive. The mini truck can take and handle a beating. With amazing runtime, range of control, speed and motor power, you just cannot go wrong with this. 
Ideal for all ages starting from 4 years old and above. If you want a really fast, responsive but small truck for both off-road and indoor racing, the IMDEN is your foolproof option.
Features
1:18 scale

4×4 

Top speed over 30 miles per hour

Comes with an extra battery 

Up to 100 meters of control range
What You'll Love
The adjustable speed

Responsive controller 

Its fast speed 

Very good off-road driving capability 

Extended runtime using the extra battery 

Powerful brushed motor
This VCANNY monster truck is on the bigger and heavier side of RC trucks. It's speedy, can climb hilly terrains and drive through tall grass. It is an all weather monster truck that resists water. 
The truck is durable, equipped with shock suspension to tackle damage. The total play time provided by the two batteries combined is more than satisfactory. 
However, the batteries take too long to charge, somewhere between six to eight hours. The range of control could be broader. The responsiveness of the joystick begins to dwindle as the truck reaches closer to its 100 meter range. 
Ideal for kids aged 5 years and above. It's a basic RC truck with fast speed and great off-road capabilities. If the 100-meter range limit is enough for your child to play in, the truck can be a very fun toy to have.
Features
1:18 scale 

4-wheel drive

Top speed reached 40 kilometers per hour

Comes with a spare battery and a separate charger
What You'll Love 
Each battery lasts up to 25 minutes and has a two hour charging time. With the extra battery extending its battery life, you can enjoy over 40 minutes of play time. 

The plastic chassis is sturdy and durable. 

The tires are tough enough for off-road surfaces

Good steering grip 

On the smaller side

Shock suspension
On full speed, this RC truck is too fast to drive indoors. But the good thing is once you adjust the speed, it has just the perfect size to navigate indoors. Hitting a few walls, tree trunks or garbage cans wouldn't do it much harm. For its super low price point, the RC car is incredibly fast and durable with good battery life. Its range of control is somewhere around 60 meters. 
Ideal for kids aged 6 to 12 years old. Good for off-road racing on a budget. 
Frequently Asked Questions
Should I get a 2-wheel drive or a 4-wheel drive RC truck?
4-wheel drive RC trucks give you more power and flexibility in terms of steering and controlling the vehicle. They are also more expensive than 2WD RC cars. If your primary purpose is fun and entertainment, go straight for 4-wheel drives. If you're a beginner hobbyist and want to begin with a challenge to shape yourself as a better driver/racer in the future, start with 2-wheel drives. 
What does the scale of an RC truck mean? 
The scale of a remote control toy car is basically just a ratio. It tells us the size of the toy car relative to the size of the actual real-life vehicle. For example, if an RC truck is 1:16 scale, it means the toy car is 1/16th the portion of the original vehicle. 
Are RC trucks safe for kids? 
Absolutely, unless your kid is a toddler and likes to chew on the parts. RC trucks are suitable for children aged 5 years and above. If the RC truck in question has a top speed higher than you are comfortable with, make sure it has adjustment options. Most RC trucks are not that fast and even the fast ones have low-speed modes.




If you plan on buying a bigger truck, make sure your kid plays with it outside to avoid bumping into furniture indoors. 
Should I opt for a Ready to run RC or build my own?
For beginners or kids, the best option is to order a pre-assembled or ready-to-run (RTR) RC car. However, if DIY is your thing or you're contemplating on some serious racing, try getting an RC kit instead. This will allow a wide variety of modifications on your car or truck according to your choice.
How long does Amazon take to deliver the RC cars? Are there any shipping charges?
When it comes to Amazon's shipment duration, they'll take around 5-8 days to deliver the RC car of your choice. Most of these cars are eligible for FREE SHIPPING on orders over $25, so that's a relief! Just be sure to check on the shipping notation while placing your order and you'll be good to go.
If you are looking for rc car for big kids or older boys, then please check the best remote control car for adults guide. 
Pro Tips: Make your RC car faster!
Assuming that you're an adrenaline junkie and constantly looking for ways to meet up your needs, upgrading your RC car could be an easy way out! Without costing you a fortune, there are a few tricks to give your remote-controlled car an extra boost. So, let's take a quick look at the techniques to maximize your fun-
Adjust the pinion and spur gear
Remember to increase the teeth count of the pinion gear by one or two at a time to avoid over-heating issues. For a faster top speed, make sure to opt for a higher teeth count. However, to accelerate your RC, a smaller pinion gear will serve great but at the cost of a slower top speed as its drawback.
In case of the spur gear, decreasing the size will help gain a faster speed with lesser accelerating power. Whilst increasing the dimensions will allow you to accelerate quicker, it will also cause a decline in top speed.
Tip: Adjust both the gears accordingly for the best results.
Swap the current tires
When racing on rough terrains, full spiked tires are the best go to tires. However, for surfaces which are not so rough, slick tires should be your choice. If the RC car is for your kid to play indoors, mini pinned tires will do a great job when racing on carpeted areas.
For an overall performance, try replacing your tires with mini spikes as it will provide a good grip for most surfaces.
Get rid of extra weight!
Switch the heavier parts of your RC car with light-weight ones. Choosing pieces made of aluminium, light carbon, or graphite will definitely increase the speed of your flight times. Nevertheless, be certain not to put off too much weight as it will cause the traction to decrease.
Upgrade the motor
If you're looking forward to racing from a beginners level to advanced ways, just replace your old brushed motor with a brush-less one. You'll get both speed and power with the upgrade!
Verdict 
Buying a fun RC truck as a Christmas gift for your kid doesn't have to cost you hundreds of dollars. We have shown you some of the best Radio control trucks under $100 that are immensely fun to play with. 
In case you are still torn among these cool little pieces, we'd like to end this article with some editor's picks to further help you in your search. 
Most versatile off-road RC truck:  IMDEN Electric Remote Control Off Road Monster Truck 
Best value for money: VCANNY Electric Remote Control Off Road Monster Truck
Best indoor RC truck for kids: RGT Crawlers RTR Monster Truck 
Best beginner racing RC truck for kids: BEZGAR Hobbyist Grade 4×4 Waterproof RC Car
The post Best RC Cars under $100 – Cost-effectiveness at its finest appeared first on Playground Dad.
* This article originated here
Follow Us on Twitter at @ItemAdvisor and be sure to hit the Forums to speak your mind about big tech and other business related happenings…